Minon Amino Moist Skin Mask 22 mL × 4 pieces

DAIICHI SANKYO HEALTHCARE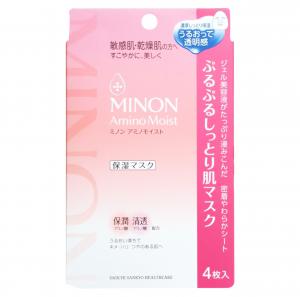 Moist Essetial Mask
It makes wrinkles caused by dryness less visible. (Tested and evaluated for its effectiveness)
A special care where the sheet soaked bouncy gel beauty lotion clings to your skin and supply moisture to every corners of your stratum coneum.
製品特長
思わず触れたくなるほどみずみずしい肌へ。うるおって透明感。
乾燥による小ジワを目立たなくします(効能評価試験済み)
水分を保つ機能が低下しがちな角質層に、バリア機能をサポートする保湿成分を補給
ぷるぷるジェルがしみこんだ密着やわらかシートで、液ダレしません
Minon Amino Moist Skin Mask 22 mL × 4 pieces
DAIICHI SANKYO HEALTHCARE
HOW TO USE
1.
After preparing the skin with lotion, remove the mask from the bag and spread it.
When opening from the bag, open the top and bottom of the mask that is folded in two and then spread it sideways.
2.
After aligning the mask to the eyes, attach to the position of the forehead and mouth, and bring it close to the whole face.
3.
Please remove the mask after about 10 ~ 15 minutes. Please let me rub it with the palm of the gel essence that got on your skin.

ADVICE
It is more effective if you apply the gel essence remaining in the bag from the top of the mask to your skin during packing. Even if the mask is not dry, you do not need to wear it for more than 15 minutes (there is no difference in effect even if you wear it more). As your face care is sufficient, please use it gently wipe the neck and body and use it for whole body care. You may just finish your skin care, but please put on your milky lotion and cream as you like.